Training during summer
When the skating season is over, we are not standing still at Isis. To stay active in the summer, we have dryland and cycling training. Do you want to stay fit throughout the summer? Become asummer member.
Dryland training
A little while and we are back on the ice. Timely start with dryland training is a very good preparation for the winter season and Isis is very good use here.
Every Tuesday there will be a dryland training around the Karpendonkse plas. We gather at 18.30 in front of the Student Sports Center
After about 1.5 hours of trainging, which consists of: stretching exercises, skating exercises, fitness building often in the form of rapid-movement movements, in between what 'fiddling, laughing, social contact', etc, you feel your kitty and look forward to the next training.
The training program is designed in such a way that everyone, both advanced and beginner and people with less physical condition, can participate without problems.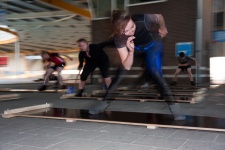 A number of fanatical athletes are present at almost every training session. In addition, a training schedule has been developed for the loyal participants / race riders, on the basis of which training work can also be carried out on the other days of the week.
Ask the trainers Martien and Olga, the loyal participants or the board!
---
Cycling training
From April to September there is a lot of cycling at Isis together with Squadra Veloce. Every Thursday we train at 6.30pm. We gather on the bridge in front of the student sports center. Participating once is no problem, just come and join. If you do not know exactly where you should be, please contact the board.
Because the cycling group is very big this year and not everyone can drive equally fast, we want everyone to read the following rules and tips:
Route
The route starts and ends at the student sports center. Click here for the route.
Fast Group / Slow Group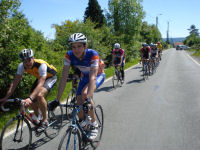 Everyone can decide for themselves (we hope so anyway) how hard he / she can cycle about and whether riding with the fast group is too high or not. Is there driving in one group (because there are fewer people on the training eg) or do you have overestimated yourself and it goes too fast, let that know in time and make sure you do not hang behind the group where nobody sees it as you will fall out of the group. Make sure when you almost fall out of the group that there is someone who can call the others can get you out of the wind. It also applies, that it is nice if it is passed on when someone is falls out of the group: those on head really do not hear when someone calls five rows down that it should go a little slower(wind ...). So if you hear something behind you, then call yourself.
Furthermore, when driving in one group or with a slow group, it is important to drive calmly through the bend. Those who cycle less often drive the bend more slowly and have less power to turn on and lose the connection there ... think of that!
Tips for training
- Always wear a helmet (mandatory) and ensure that your bike is in order. Wearing course gloves is recommended, if you fall, your hands will stay whole.
- Take a spare inner tube, plastic tire levers and possibly a pump with you.
- Make sure you can change a tire and wheel. There are many people within the club who can help you with that and want to explain it once, but make sure you learn it yourself!
- It is better not to eat for 1 to 1� hours before a workout. Keep drinking, especially when it's hot! You quickly lose 0,5 liters of fluid per hour!
Driving in a group
It is more common that they are driven in large groups. To maintain safety, a number of rules apply within the group. It is important that everyone (!) Abides by these rules. Instead, ask for extra what the intention is, BEFORE accidents occur.
Communication in the group is preferably non-verbal in most situations. This is because words are often unclear because of the wind. A gesture has a clear meaning. For all forms of communication, it must be taken over by the participants so that it is clear on the other side of the group what is going on.
Sign language for cyclists
Cyclists just love waving hands, which we like to see within a group ;-). We distinguish the following gestures:
- With left to rear swinging on the height of the door for oncoming traffic and objects on the left side
- Swinging to the right height at the right-hand side for accommodating traffic and objects on the right side
- Hand up to stop
- Move down with the flat hand if we want to reduce the tempo.
- Turn off the hand at left or right
An example: whether a pedestrian on the right-hand side of the road meets, or whether he is walking along does not matter. I just want to know that I have to make room on that side: waving the right hand at the height. The same money when a car is parked there or we pick up a cyclist. You do not have to know what it is (if you can understand it). You must know that you must make room.
Cries from the group
There are some situations where it is important to call. This concerns the following situations:
- Obstacles in the middle of the road, for example a pole. Name the danger with the name and use the corresponding sign language, so that it is clear what else to look out for. (In this case one calls: 'pole / paaltje', not 'beware!' Because what do you have to watch out for?)
- Traffic from behind ('Car / Auto behind')
- When crossing: 'free / vrij' or 'auto left (right)'
- If the group has fallen apart: 'wait / wachten'
- And 'complete / compleet' after everyone is connected
Behavior within the group
You are responsible for your driving behavior, so it is important to look carefully and to know what you are doing. When you drive in a group, you avoid sudden movements, such as braking and changing lines. Driving in a large group does not mean that we have more rights than the other traffic, in fact, we still have to pay more attention. ALSO ALWAYS SEE YOURSELF or you can cross ... your predecessor is only a human being and can make an estimation error.
Other appointments within the group are
- Two to two continue to ride if possible, unless the road is crowded or there is hard driving (then behind each other) ... driving in impellers etc. we do not because of other traffic on the public road!
- Always transmit signals in the group: so waving with your hands ... you may have seen that the person in front indicates something, it is useful if the rest of the group knows.
- Do not look back unnecessarily ... then you will not see anything in front of you.
- Keep the road clear when something is wrong (leak, fall, collect).
When people stay behind, everybody waits. It is important that this is reported. It is even better when someone reports that it is going too fast for him or her BEFORE you have to unload.
(thanks to NSWV Mercurius)
Ice training
In September and October, a number of training sessions will be held on the short track track before opening the long track. These training courses are for all levels and are focused on technology and to rebuild the feeling of ice. Prior training is done on dry land to cover an aspect of the technique down to the last detail. This is then repeated on the ice. To participate in this, you do not need short track ice skates, regular long track scates are also good, because the training is not about speed.