License holders
Regional races
Regional races are organized by the KNSB in Eindhoven at Saturday and Sunday. You can always join the supersprint and all the training races of your category. You can also register for races outside your category, but there's a smaller chance you can participate (only if spaces are available). Besides that, there are regional distance championships (GAKs) and the regional championship (GK), which is held over four distances.
The regional championships are divided into categories. If you have never participated in such a race, you will automatically be placed in category 7. If you would like to know in which category you currently are, visit www.knsbzuid.nl.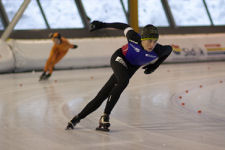 To register for regional races, go to www.knsbzuid.nl.
If you would like to sign out of the race, you can do so until 16:00 at the day of the race. This can be done on the same website as the registration.
Participants of regional races are also responsible for setting up and cleaning the track. You will hear from the wedstrijdsecretaris when you have so called jury duty. When you have jury duty, make sure you are at the ice rink 20 minutes before the race starts.
Results, participants and register lists can all be found at www.knsbzuid.nl.
Marathon
In opposition to speed skating, you don't only skate against a time during a marathon, but also together with multiple people over a certain distance. For example 50 or 100 laps.
Marathon skating can best be compared with cycling races on the road. There are similar rules and also several leader sweaters. Nationally, the color orange is for the leader of the overall ranking, green for the leader of the sprint ranking and white for the best youth.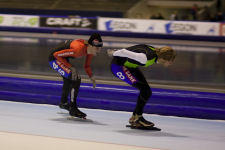 Besides races on artificial ice, there are also a few races on nature ice. The most famous one is the Elfstedentocht. With lack of nature ice in the Netherlands, a lot of ice skaters go to the Weissensee in Austria, where every year the alternative Elfstedentocht (200 km) and the NK marathon on nature ice (100 km) is skated.
The marathon in Eindhoven is divided into several categories of which C2 is the beginners category. Would you like to try a marathon one, have a look on the regional calendar and visit the ice rink. Registration is possible at the ice rink, half an hour before the marathon starts.
Look for more information about regional marathons in Eindhoven on www.knsbzuid.nl.